Student Wins $10K, Title of Best Student Entrepreneur In the US
The Global Student Entrepreneur Awards (GSEA), hosted by Entrepreneur's Organization, is a worldwide student startup competition. On February 9th, 26 top students from all around the country attended the national competition in Dallas, TX at the Communities Foundation of Texas (CFT).
This is not your ordinary pitch competition.
"This is not a business plan competition," said Marisa White, GSEA's Program Manager. "This is about finding an entrepreneur who lines up with our core values, including 'Make A Mark', 'Thirst For Learning', and 'Boldy Go'."
Despite the emphasis on character, students came with some incredible business opportunities. Some students had already secured seed funding of over $2,000,000, gained thousands of customers, and have remarkably impressive boards of advisors. These students shed light on a misunderstood millennial generation. A generation of innovative thinkers, risk takers, and dreamers who refuse to settle for the way the world is and leverage technology to change it.
There was no lack of creativity when it came to what ideas were brought to the table. Businesses ranged from an outdoor adventure company, to fast-casual dining chains, to napkins that can detect date rape drugs.
A semi-final round was conducted to narrow down 26 students and select the top 5 finalists. Only one student can win and advance to Toronto for the global round.
MEET THE WINNER AND TOP FINALISTS
First Place: Danya Sherman, KnoNap LLC
KnoNap produces paper napkins that detect rape drugs. By placing a drop of liquid on the test area of the napkin. If a color change appears, it indicates a drink has been laced with rape drugs. While studying abroad in Spain, Danya was drugged and sexually assaulted by a friend. After that, she "sought to create discrete tools for people to test drinks to ensure less individuals go through this experience." Danya is launching a Kickstarter in April and will represent the United States at Global Finals in Toronto.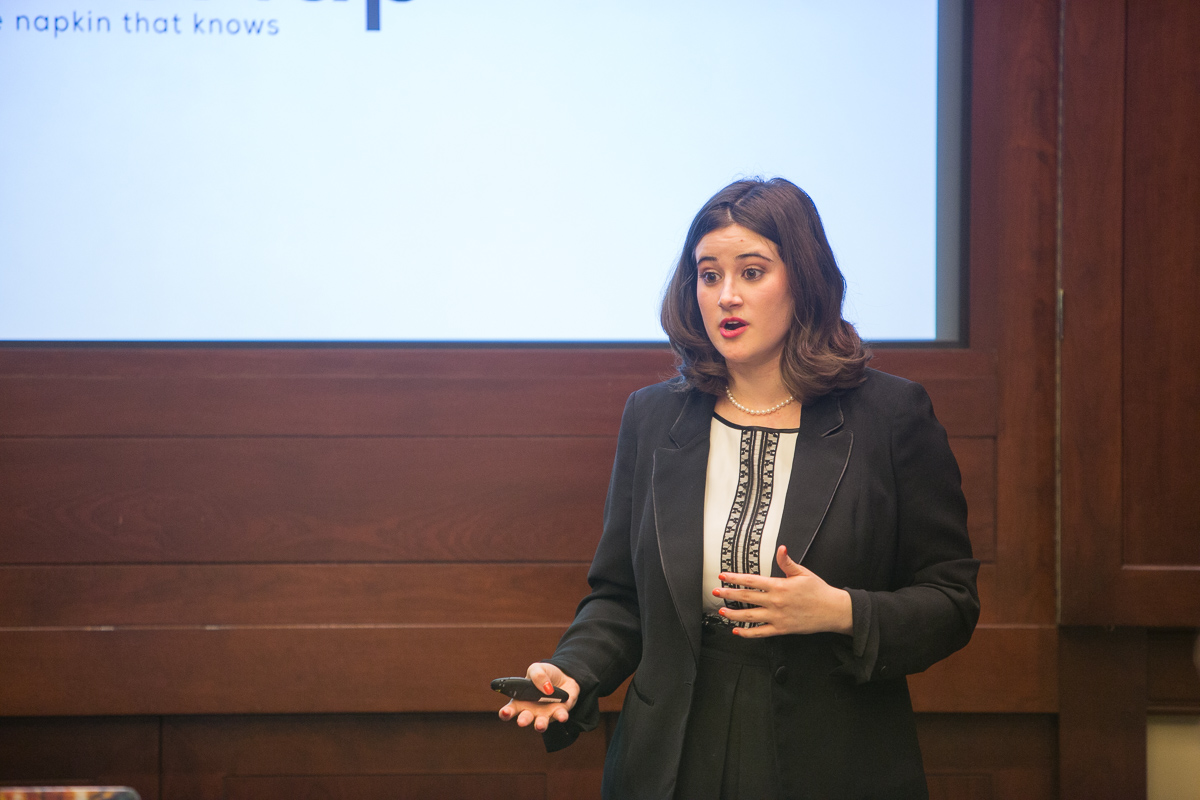 Danya tackles tough questions from judge panel
Second Place: Chris Maurice, Yellow Card Financial
Yellow Card Financial makes it simple to buy and sell digital currency in countries, such as parts Africa and the Middle East, with high unbanked populations & limited access to basic financial services. With Yellow Card, all 4 billion unbanked people in the world will be able to access global commerce & keep their money secure. Upon launch, the company generated $182,000 in exchanges in just four and a half months. Their next open beta launch will be in 5,000 locations in four different languages.
Third Place: Mackenzie DRAzan, MiResource
After her sister was diagnosed with depression, anxiety, and an eating disorder, Mackenzie's family could not find her sister the right care. Not because they didn't try, but because they couldn't find an accurate match for patients to providers. Mackenzie lost her sister to suicide her freshman year of college. MiResource helps healthcare centers keep track of crucial data about mental healthcare providers and match providers to their patients on the first try, no matter how diverse their needs are. Mackenzie has secured around $2,000,000 in funding and looks forward to growing her platform to University mental health care centers.
Few things are as inspiring as hearing brilliant young students pitch their ideas. "Every time I judge one of these competitions I get at least two or three new ways to look at my own business," said Adrienne Palmer, a member of EO Dallas and key organizer for GSEA Dallas. Sejal Desai, the Business Development Leader for CFT for Business, noted how excited CFT was to host the competition. "We're delighted to host these young budding entrepreneurs in our building. It brings a ton of energy…it's inspiring to see how they are incorporating social good into their business ideas."
GSEA is a win-win. It's an excellent opportunity for students and a refreshing experience for the busy professionals who take an entire day off to judge them and give feedback. We look forward to seeing Danya represent the United States in the Global Round. Congrats to all of the incredible students who competed!